Why Not SCRAP it? A New Way to Reuse Traffic Sheeting
What is SCRAP?
SCRAP PDX is a nonprofit in Portland that sells art supplies at hefty discount as well as providing educational programs for the community. They also are known to host local reuse-based artists in their gallery.
SCRAP's Mission
Their mission is to inspire creative reuse and environmentally sustainable behavior by providing educational programs and affordable materials to the community.  With the help of donations, they divert 140 tons of usable materials from the garbage. Because their inventory is donated by individuals and businesses, they can keep prices low—usually at at a 60-75% discount.  All types of reused materials for arts and crafts—plus school, office, and party supplies are available for purchase at SCRAP. Every penny spent at their store goes back into supporting SCRAP's mission.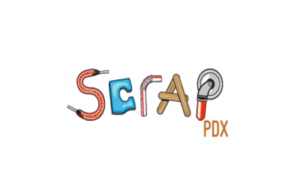 Why We SCRAP It
Instead of going into the garbage, Traffic Safety Supply reuses leftover material by donating to SCRAP.  We provide cut-outs and other pieces that can be used in a variety of different types of crafts.  We are excited for these materials to be used by schools and other artists, instead of going in our trash bin. We're hoping to donate more and more of our leftover material to SCRAP this year, aiming for a nearly 95% rate on reuse for our sheeting material leftovers.
Need More Information?
We are happy donate to such a wonderful cause and would like to encourage or partners, that have leftover materials to think about contributing.  For further information on SCRAP, including how to donate or volunteer,  please see their website https://scrappdx.org/